NIGHTFLYER - KENTUCKY'S PREMIER EAGLES TRIBUTE BAND
NIGHTFLYER is your opportunity to experience the iconic songs of the EAGLES.  The music is performed to exacting standards.  This unique and popular tribute band is comprised of six central Kentucky area musicians possessing extensive band experience.  Members have performed at venues both in and outside of Kentucky.   Formed in 2016, NIGHTFLYER has entertained groups numbering over a thousand.  EAGLES music lovers attending large festivals and outdoor corporate events have gathered to hear NIGHTFLYER share the Eagles musical magic.  NIGHTFLYER -  COME AND EXPERIENCE THE HITS OF THE EAGLES AS YOU HEAR NIGHTFLYER "TAKE IT TO THE LIMIT!"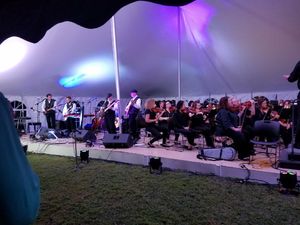 LISTED BELOW ARE MANY OF THE ICONIC EAGLES SONGS THAT WE COVER IN OUR TRIBUTE SHOWS!
 THE EAGLES GREATEST HITS 1971-1975  (That's right!  ALL)  INCLUDES THE FOLLOWING!
TAKE IT EASY                                                                  WITCHY WOMAN
LYIN' EYES                                                                      ALREADY GONE
DESPERADO                                                                   ONE OF THESE NIGHTS
TEQUILA SUNRISE                                                          TAKE IT TO THE LIMIT
PEACEFUL EASY FEELING                                               BEST OF MY LOVE
ADDITIONAL HITS!
HOTEL CALIFORNIA                                                       HEARTACHE TONIGHT
VICTIM OF LOVE                                                            NEW KID IN TOWN
LIFE IN THE FAST LANE                                                 I CAN'T TELL YOU WHY
JAMES DEAN                                                                  THOSE SHOES
HEART OF THE MATTER                                                 BUSY BEING FABULOUS
HOW LONG                                                                    SEVEN BRIDGES ROAD
THE LONG RUN                                                             LIFE'S BEEN GOOD
COMMENTS FROM PAST VENUES
PERRYVILLE JAMBOREE - "All I can say is: AMAZING!  If you haven't seen Nightflyer Tribute Band, it's a MUST SEE!  Thanks to the Brummetts for a great show!
 - Tonya S.  - Show Attendee, June 2019
THURSDAY NIGHT LIVE LEXINGTON, KY - "NIGHTFLYER!  Wow what a show these veterans of music put on...one great show to a HUGE crowd!!  Thanks you for letting me be a part of this awesome event
 - Wallace "Gator" Harrison, 2020 Lexi Music Awards Best Sound Tech, 2021 Lexi Music Awards Lifetime Achievement Award
Garrard County Tobacco Festival - "Everyone I talked to really enjoyed your music and how well you emulated the EAGLES!"
  - D Tudor (Stacy's Music)
Bluegrass International Trucks - "We had Nightflyer play at our Dealership's OPEN HOUSE....they covered the Eagles better than any band I had ever heard!  From the music to the vocals, Nightflyer was FANTASTIC!  I would highly recommend booking these guys for any event!" 
- W Deters, General Manager